Back to School with…Arna Mačkić – Session #1 with Aida Šehović
Taking place on Tuesday 31 October 19:00 – 21:00. Tickets for the separate events are 17,50 euro and include a simple dinner. Doors open and dinner served at 18:00. An entrance package for all three evenings is available for 45 euro. Get your tickets here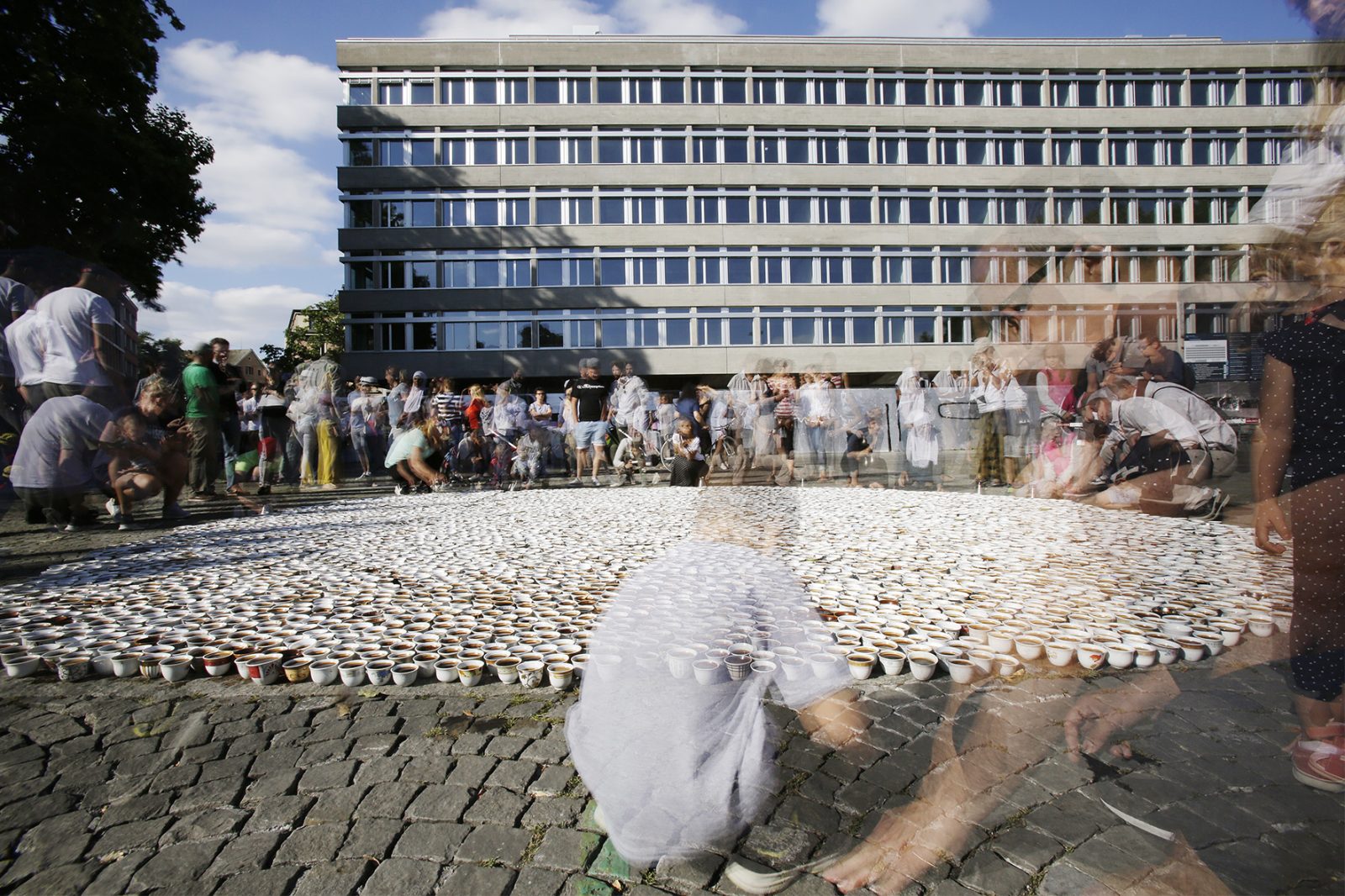 Tickets for the separate events are 17,50 euro and include a simple dinner. An entrance package for all three evenings is available for 45 euro.
ŠTO TE NEMA
disrupting the status quo of how a monument is imagined, made and cared for
For this first event of our Back to School with… series curated by Arna Mačkić, she has invited the artist Aida Šehović. After an introduction by Arna Mačkić on the central topic "the architecture of Memory" Aida will give a lecture about her work for ŠTO TE NEMA and the participatory public monument to the Srebrenica Genocide that she developed.
How can we design monuments that disrupt the status quo and challenge the dominant historical narratives? Is it possible for communities to imagine and offer new forms of public memory and build monuments that are inclusive, evolving and relevant for the future? While a dominant or central culture has the means to memorialize its own version of the past, this lecture by Aida Šehović and Arna Mačkić will explore the ways in which those on the margins can inscribe their own histories. While the center has stone and bronze, the periphery has performance, stories and rituals. These are the processes and strategies that we will discuss.
Architecture of Memory
This series is about the architecture of memory. Places of remembrance and monuments often represent a dominant historical narrative. Thereby they exclude those people who do not recognise themselves in the monuments and places of tribute in public space. More and more we are confronted with the need for forgotten of hidden stories, stories by people who have suffered under the dominant heroes.
How can places of memory and monuments be designed that do not offer a one dimensional perspective on history, but that underline a shared past and a collective future? Places of remembrance that urge people to reassess their perspective and play a part in the daily lives of the urban communities. During this series we will look at different approaches by architects, activists and researchers in thinking about and designing places of remembrance.
About Aida Šehović
Aida Šehović was born in Banja Luka, Bosnia and Herzegovina in 1977. She is the founder and caretaker of ŠTO TE NEMA—a participatory public monument to the Srebrenica Genocide. Šehović is the recipient of Socrates Sculpture Park Fellowship and Culture Push Fellowship, and was an artist in residence at the Lower Manhattan Cultural Council, Grand Central Art Center, Santa Fe Art Institute, and Vermont Studio Center. Recent exhibitions include Ars Aevi Nucleus Kyiv, Canadian Museum of Human Rights, Kunsthaus Dresden, Historical Museum of Bosnia and Herzegovina, KRAK Center for Contemporary Culture, Laumeier Sculpture Park, and ARTIVISM: Atrocity Prevention Pavilion during the 58th Venice Biennale.
Her work has received support from the Foundation for Contemporary Arts, New York State Council for the Arts, Open Society Fund and the Rockefeller Brothers Fund. Šehović received her BA from the University of Vermont and her MFA from City University of New York Hunter College. She lives and works between New York and Sarajevo. Where Have You Been, a feature length documentary by Mirko Pincelli about her work, will be released in 2023.
Programme
18:00 – 19:00 Doors open and dinner served
19:00 – 19:10 Welcome
19:10 – 19:40 Introduction by Arna Mačkić on the Architecture of Memory
19:40 – 20:25 Lecture by Aida Šehović: ŠTO TE NEMA – disrupting the status quo of how a monument is imagined, made and cared for
20:25 – 21:00 Conversation between Arna, Aida and the audience
About Back to School with…
For Back to School with… we invite professionals, makers and (critical) thinkers from inside and outside the field of architecture and urban design to share their most current thoughts, recent questions and latest or ongoing research. For each series we ask a professional guest to design and curate a lecture programme around one topic or question that has their urgent and great interest at this moment and to bring together different speakers to elaborate on the subject in three consecutive evening events.
During this series we dealt with the fact that architecture debate has for the past thirty years revolved around 'extra-architectural' issues such as economy, program, health and sustainability, while subjects such as 'Aesthetics', 'Design', 'Style', 'Representation' have scarcely been discussed. In this series we want to broaden the view on the formal dimension of architecture. On three evenings we will illuminate the subject from three perspectives: the historical, the architectural, and the political.
See for more info on the complete series here