Back to School with…Arna Mačkić + We Sell Reality
Tuesday 12 December 2023. The third session of Back to School with… Arna Mačkić about the Architecture of Memory. Tickets available for 17,50 euro and include a simple dinner. Doors open and dinner served at 18:00. The event starts at 19:00. Get your tickets here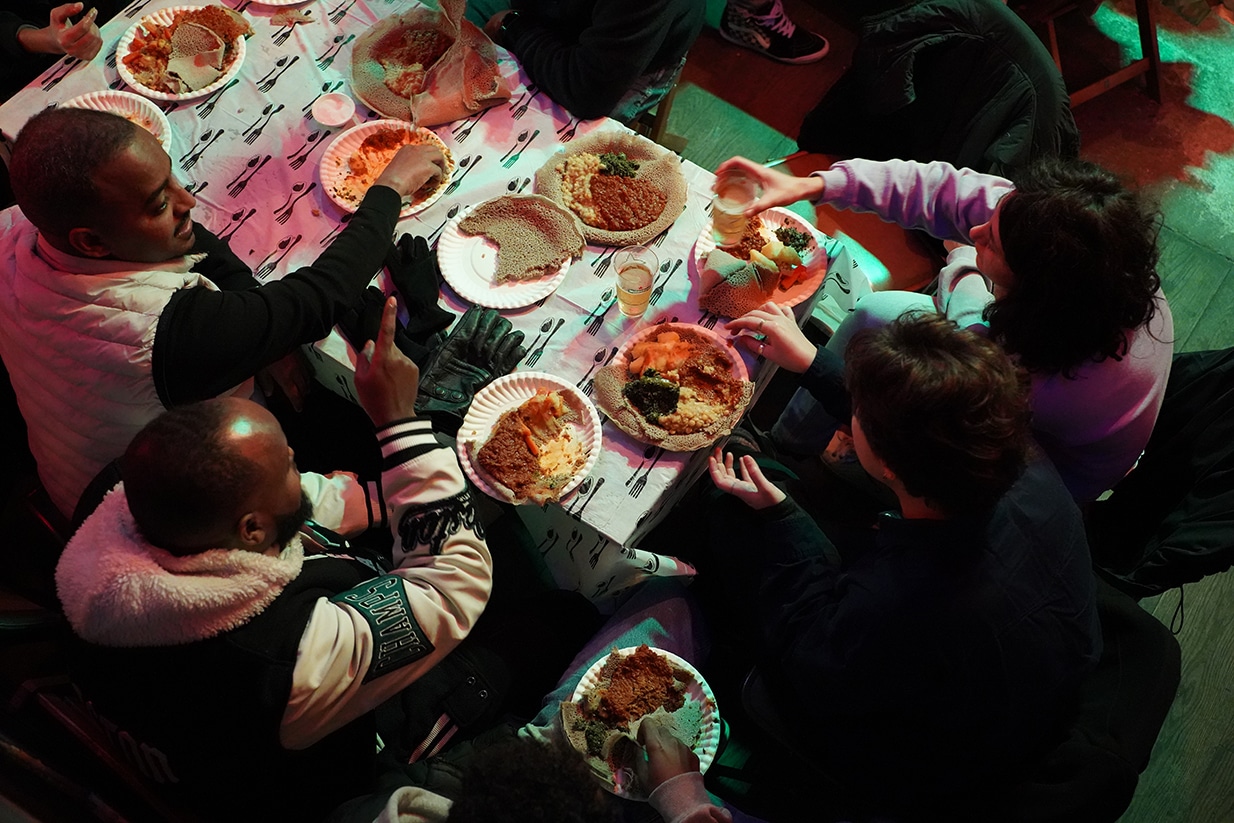 Tickets available for 17,50 euro and include a simple dinner. Doors open and dinner served at 18:00. The event starts at 19:00.
We Sell Reality is a social rebellion label that is set up as a collective with an open-source character. We Sell Reality makes products and installations and creates performative interventions in public spaces. The team consists of around 15 social designers. Most members of the collective came here as refugees and are in limbo. The makeup of the team can change throughout various projects, those who would like to join is welcome.
For this lecture, We Sell Reality member Clinton and Hamo, will talk about the series of memorials that the collective recently organised. The first dedicated to Sudan, the second to Ethiopia and Eritrea and the third to the journey that refugees undertake. Through this series, We Sell Reality aimed to bring people together to process and grieve the impact of war, conflict and violence. Besides they want to inform people about the forgotten wars and struggles and get them engaged, as this is the world we share.
We Sell Reality reflects on the paradox of closed borders for one and open borders for the other. For immigrants without wealth, these borders prove to be almost impossible to pass. Whereas the same borders are easy to pass for someone with a European passport, both physical and for trading purposes. We Sell Reality makes visible the dependency that occurs for some as a consequence of this paradox. The We Sell Reality team develops products and presentations with the aim of providing insight into the lives of undocumented refugees.
Projects by We Sell Reality give expression to a failing Europe and its asylum policy, but also to people's will to live, disrupt, pride and love. We Sell Reality simultaneously makes the reality of vulnerable survivors visible and seductive. Where the market and the survival of the fittest apply, We Sell Reality shows the reality of people in the most vulnerable position.
Programme
18:00 – 18:45 Doors open, simple meal provided
19:00 – 19:10 Welcome by Independent School for the City
19:10 – 19:40 Introduction by Arna Mačkić
19:40 – 20:15 lecture by Clinton and Hamo of We Sell Reality
20:15 – 20:45 Conversation / rituals / questions from the audience
21:00 – 22:00 bar open for drinks