CRIME AND CONTROL IN THE PUBLIC REALM
A one-week studio mapping and investigating the borders between the public and private domain, taking place from 02 to 09 March 2022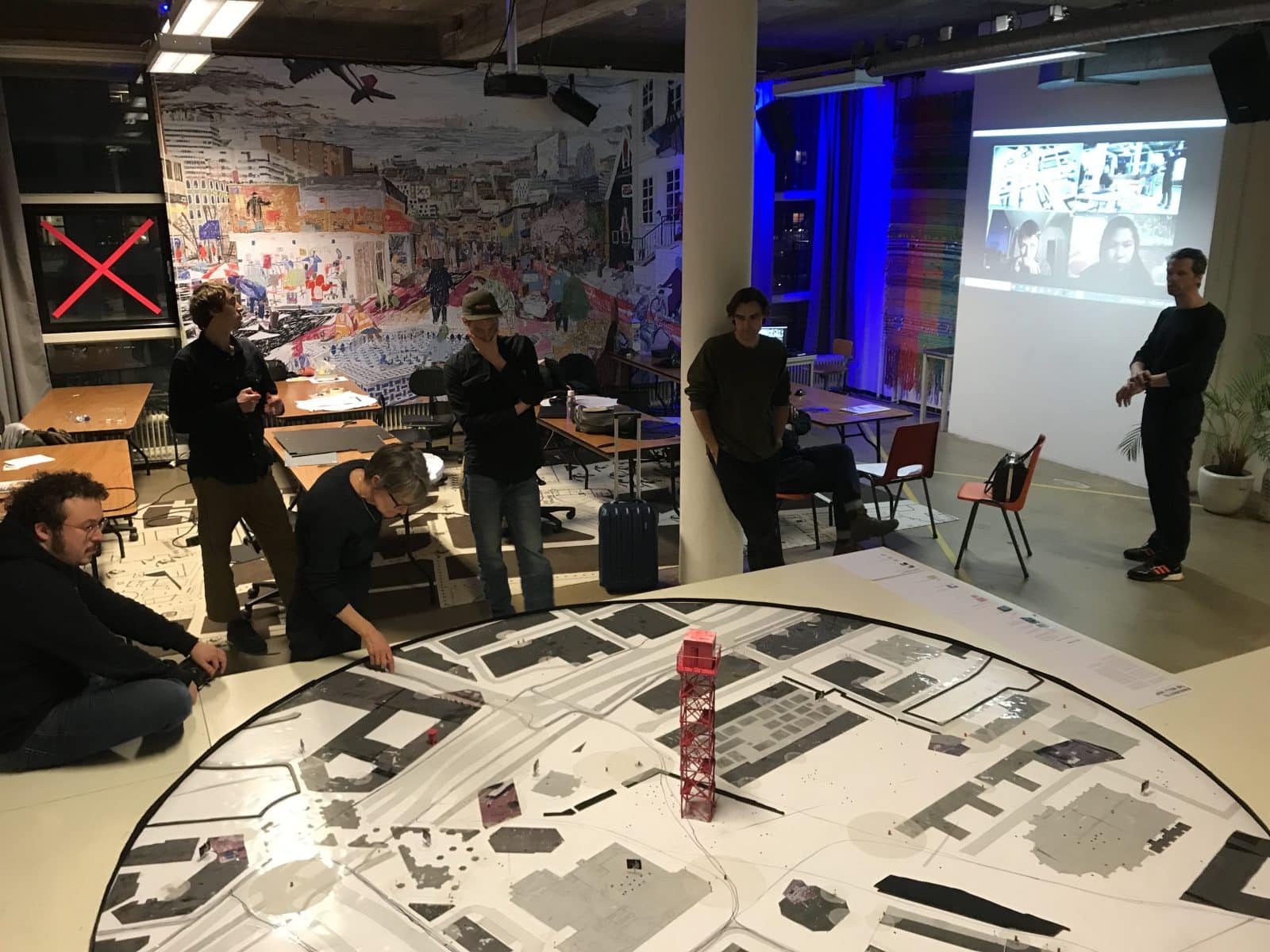 Our public space should be a happy, safe, inclusive and healthy domain. In Rotterdam, the municipality even declares the outdoor space as a 'city lounge'. However, in its longing for smoothness and avoidance of conflict, numerous of measures are taken as an attempt to make our cities 'safe'. Long after Foucault described the Haussmann Plan as the ultimate form of control, we now witness an increasing surveillance in our public space.
Signage, securitization and technological growth makes sure our public domain is more and more controlled. Every function and user of the city has their own place; traffic is regulated, playgrounds are fenced and nature is framed. Which impact does these measures have on our public space? Where can we still move freely in our cities and which meaning do we want our public space to have in our city and in our society? Does nature still have a place in this highly regulated environment?
In this studio we have been mapping and investigating the borders between the public and private domain. We started our research in the heart of Rotterdam: the Binnenrotte. Around the biggest square of the city we can find many buildings and places that define themselves as a public space, such as the central library, the Markthal, the underground station Blaak, the Cubic houses and the Laurenskerk. On a 290cm circular map we have been mapping different layers of free space using. Building upon the historical mapping method of Nolli we developed a 'Shady Nolli' map, on which not only public and private spaces are shown but as well surveillance, safety, barriers, senses, vegetation and any other data that has an effect on the public realm.
A series of lectures by Theo Deutinger, Rene Boer and Wouter Vanstiphout helped us to dive into the world of control and to understand the complexity of keeping our spaces public.
TUTORS
Elma van Boxel and Kristian Koreman
Elma and Kristian are the founder of ZUS [Zones Urbaines Sensibles] – a design office that develops solicited and unsolicited projects in architecture, urbanism, and landscape design. ZUS contributes to the changing urban landscape through its dedication to architecture's public role. Founded in 2001 by Elma van Boxel and Kristian Koreman, the studio consists of an international, 25-strong, multidisciplinary team which has received numerous national and international awards for their boundary-crossing work. Their work led to them winning the 2007 Maaskant Prize for Young Architects, being named Architect of the Year in 2012, receiving the Urban Intervention Award Berlin, being finalists for the European Prize for Public Space in 2016, and being nominated for the Mies van der Rohe Award in 2017.
Michelle Provoost
Michelle Provoost is part of the Dean Team of the Independent School for the City, co-founder of Crimson Historians and Urbanist, and director of the International New Town Institute. She is an architectural historian specialised in urban planning history, postwar architecture and contemporary urban development. Michelle teaches at various universities in the Netherlands and abroad and continues to be in great demand as a public speaker. She lectures regularly throughout Europe, Asia, Africa and the United States, and has been involved in many municipal, national and private committees and juries.
Wouter Vanstiphout
Wouter Vanstiphout is an architectural historian and researcher who has written extensively on urbanism and spatial politics. He is part of the Deans Team of Independent School for the City and founding partner of Crimson Historians & Urbanists. He held the chair Design & Politics at the TU Delft, which explored, researched and defined the boundaries, commonalities and tensions between the fields of politics and design. He has directed the renewal of the Dutch industrial satellite town of Rotterdam: Hoogvliet and advises municipalities, the national government, housing corporations and Project Developers on matters relating to urban renewal, cultural heritage and spatial and urban politics. From 2012 to 2016, he was a member of the national advisory council on the environment and infrastructure (RLI).
Mike Emmerik
Mike Emmerik is Director of the Independent School for the City and partner at Crimson Historians & Urbanists. He was trained as an urban designer at the Delft University of Technology and subsequently worked in the Faculty of Architecture as a teacher and researcher within the Chair of Design as Politics. Mike took part in various research and design projects at the intersection of urban development and policymaking and is affiliated with the Dutch Board of Government advisors from which he advises the national government and local authorities on issues related to urbanisation and mobility.
WITH CONTRIBUTIONS BY
Theo Deutinger
Theo Deutinger is an architect, writer, and designer of socio-cultural studies. He is founder and head of TD, an office that combines architecture with research, visualization, and conceptual thinking in all scale levels from global planning, urban master plans, architecture to graphical and journalistic work. Deutinger has developed 'Snapshots of Globalization' being multilayered illustrations and maps that represent the world in this very particular moment. In 2017 he published the Handbook of Tyranny which portrays the routine cruelties of the twenty-first century through a series of detailed non-fictional graphic illustrations. None of these cruelties represent extraordinary violence – they reflect day-to-day implementation of laws and regulations around the globe. The Handbook of Tyranny gives a profound insight into the relationship between political power, territoriality and systematic cruelties. Deutinger's work is frequently published in magazines like Mark, Wired, Domus and has been exhibited at various occasions like the Future Fictions exhibition at Z33 in Hasselt (2014), 14th Architecture Biennale in Venice (2014) and the Stedelijk Museum in Amsterdam (2017).
René Boer
Works as a critic, curator and organizer in and beyond the fields of architecture, art, design and heritage. He is based between Amsterdam and Cairo and is a driving force behind the Failed Architecture platform. In recent years he developed a wide array of exhibitions, public programmes and research projects, often with a focus on spatial justice, urban imaginations and queer tactics. His current projects include Contemporary Commoning, an experimental exploration of the relation between art and (urban) commons; Terraforming Indonesia, a programme investigating and reimaginging large-scale land reclamations, in collaboration with the ruangruapa collective; and Smooth City, a forthcoming publication on the obsession with perfection in cities worldwide.
Course Schedule
Wednesday 02 March 2022
10:00 – 10:15 Welcome and Introduction by Mike Emmerik
10:15 – 11:30 Presentation and briefing on assignment by Kristian Koreman
11:30 – 12:30 Field research on the Binnenrotte
12:30 – 13:30 Lunch Break
13:30 – 18:00 Participants work on assignment
Thursday 03 March 2022
10:00 – 11:00 Lecture Surveillance and Tyranny in Public Space by Theo Deutinger
11:00 – 12:30 Participants work on assignment
12:30 – 13:30 Lunch Break
13:30 – 14:30 Lecture on getting lost in the city
14:30 – 18:00 Participants work on assignment
Friday 04 March 2022
10:00 – 11:00 Lecture Against the Smooth City by Rene Boer
11:00 – 12:30 Participants work on assignment
12:30 – 13:30 Lunch Break
12:30 – 15:00 Participants work on assignment
15:00 – 17:00 Mid term presentation
Monday 07 March 2022
10:00 – 11:00 Lecture 'Do you hear the People sing" by Wouter Vanstiphout
11:00 – 12:30 Field Research
12:30 – 13:30 Lunch Break
12:30 – 18:00 Participants work on assignment
Tuesday 08 March 2022
10:00 – 12:30 Participants work on assignment
12:30 – 13:30 Lunch Break
12:30 – 18:00 Participants work on assignment
Wednesday 09 March 2022
10:00 – 12:30 Participants work on assignment
12:30 – 13:30 Lunch Break
12:30 – 16:00 Participants work on assignment
16:00 – 18:00 Presentation of findings + conversation