Fables of the Reconstruction
A seminar on the rebuilding of destroyed cities, taking place on Friday 13 and 20 October & Thursday 02 November 2023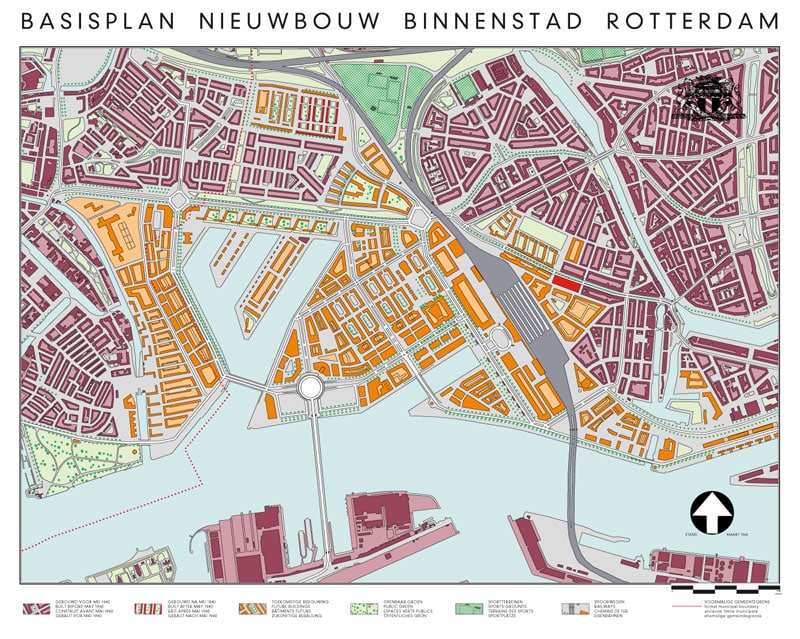 Regular tickets for the complete seminar are 150 euro. A discounted participation fee is available for those who come for an area stuck by war or disaster. Also special fees apply for special situations. Maximum amount of participants: 25 people. For more info please send an email to info@schoolforthecity.nl
REBUILDING DESTROYED CITIES
Rebuilding a destroyed city is not just replacing or rebuilding its infrastructure and architecture. It is about making the choice which and whose city should be rebuilt. It is a choice as much about the Idea of the city as about its form. A reconstructed city is not just a brick and mortar replacement of everything that was damaged, but also a story of the history and the future of the city. A heavily idealized and edited story, that tells of power structures and ideology. In the reconstruction of cities ruined by war or disaster, questions of identity, ethnicity, history and culture are paramount. From the reconstructed heart of the city of Rotterdam, this seminar will look at a variety of destroyed cities and how they have reinvented themselves or are in the process of doing so.
From Rotterdam and Dresden, to Mariupol and Gaziantep, we will look at the historical form of these cities, and at the ideological questions their repair has posed or will pose. We will also try and understand the place of the politicians, engineers, planners and architects and how they formulated their own visions and plans. Through lectures, excursions and conversations the seminar will cover a lot of ground in a short time and provoke an exchange of ideas across borders. Rotterdam will be the fitting background against which this seminar will play out.
SPEAKERS
Wouter Vanstiphout
Wouter Vanstiphout is an architectural historian and researcher who has written extensively on urbanism and spatial politics. He is part of the Deans Team of Independent School for the City and co-founder of Crimson Historians & Urbanists. From 2008 – 2010, Wouter held the chair Design & Politics at the TU Delft, which was exploring, researching and defining the boundaries, commonalities and tensions between the fields of politics and design. From 2012 to 2016, he was a member of the national advisory council on the environment and infrastructure.
Michelle Provoost
Michelle Provoost is part of the Independent School for the City's Dean Team, co-founder of Crimson Historians and Urbanist, and director of the International New Town Institute. She is an architectural historian specialised in urban planning history, postwar architecture and contemporary urban development.
Bengin Dawod
Bengin Dawod (Dawod A.A.U) is an architect, urban designer, adviser, and teacher /researcher at the University of Amsterdam, he works on a variety of project in different countries.
Among others, Dawod has advised the city of Amsterdam on the development strategy of the Zaatari refugee camp in Jordan. He has developed 'The Soul of the City' method for reconstruction of post-conflict/crisis cities. which askes to think beyond current practice and involves wider set of disciplines than professionally trained architects and urban planners, in who might understand, through their collaboration, the invisible layer of the city and outline possible future scenarios for the development of the city.
Alexander Shevchenko
Alexander Shevchenko is an Ukrainian urbanist and founder of Zvidsy Agency and ReStart Ukraine project. With a rich international experience working previously in Italy, Germany, and Malaysia, Alexander is a proactive change-maker in the field of urban and regional planning for Ukrainian cities and municipalities. Being focused before the full-scale war with Russia on urban activation and strategic spatial planning Alexander expanded his activity to the aspects of evidence-based decisions, social cohesion, and resilience approach for various Ukrainian contexts. Currently, Alexander and his team are working with a set of international organizations such as UNDP, GIZ, Bosch Foundation, Essex University, and Dark Matter Labs in order to provide various formats of spatial recovery response to Ukrainian cities and municipalities all over the country.
Jan-Willem Petersen
Jan-Willem Petersen is the founder of Specialist Operations since 2006, an independent research and design office. He is a spatial planner, architect, and researcher based in the Netherlands. He oversees an interdisciplinary team to develop strategies and shape processes that rebuild resilient urban and conflict-affected environments. The office initiates projects, designs interventions, develops (planning)frameworks, and conducts fieldwork and analytical research, and often responds to questions derived from disciplines beyond architecture and urban planning.
Jacopo Galli
Jacopo Galli (Crema, 1985) received his PhD in architectural design from Università Iuav di Venezia with a dissertation titled Tropical Toolbox. Fry&Drew and the search for African modernity.
Since 2014 he has been dealing with the topic of urbicides and reconstructions, organising the "Urbicide Syria" conference, promoting the "Sketch for Syria" initiative and coordinating the international workshop WAVE 2017 "Syria the Making of the Future". He has provided consultancy on reconstruction issues to private companies, international agencies such as UN-ESCWA, UNDP, the World Bank with the "Building for Peace" project and public administrations. These research experiences have been collected in the book "Cities Under Pressure" (with Benno Albrecht).

PRELIMINARY PROGRAMME
Friday 13 October 2023
13:00 – 13:30 Welcome and introduction
13:30 – 14:30 Presentation by Wouter Vanstiphout and Michelle Provoost
14:30 – 15:00 Conversation
15:00 – 17:00 Guided excursion in the city center of Rotterdam
17.00 Drinks and conclusion
Friday 20 October 2023
13:00 – 14:00 Lecture by Bengin Dawod on Aleppo, Syrie
14.00 – 15.00 Conversation
15:15 – 16.00 Lecture by Alexander Shevchenko on Ukraine
16:00 – 17.00 Conversation
Thursday 02 November 2023
13.00 – 13.45 Presentation by Jan-Willem Petersen on the reconstruction of Afghanistan
13.45 – 14.30 Conversation
Tea break
15.00 – 15.45 Presentation by Jacopo Galli, author of 'Cities Under Pressure – A Design Strategy for Urban Reconstruction'
15:45 – 17:00 End discussion
SEMINAR DETAILS
For whom is this Seminar?
Any professional background: Sociologists, historians, writers, and other urban thinkers. Planners and architects and other designers. Artists, activists, grassroots organisations and other urban do-ers
What does the seminar offer?
Lectures by experts and tutors. Guided group excursions. Conversations with likeminded professionals from a wide array of disciplines. Being part of a learning community.
What will you learn?
Different approaches to reconstruction of cities after destruction. The decisions and ideology behind the reconstruction of Rotterdam after WWII. A historical view of urban destruction and reconstruction. Seeing architecture and urban planning in terms of ideas and memory. A way to look at current events in terms of long term developments.