Fables of the Reconstruction
A seminar on the rebuilding of destroyed cities, taking place on Friday 13 and 20 October & Thursday 02 and 09 November 2023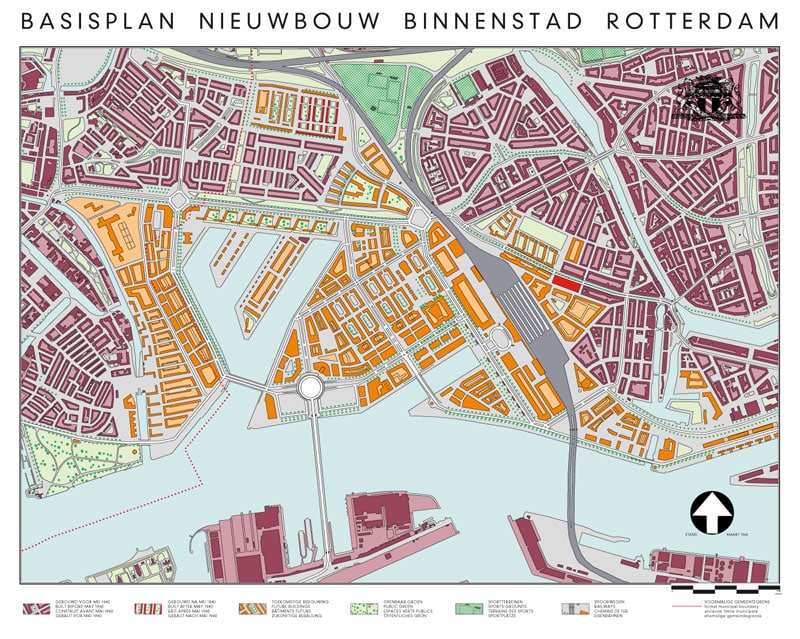 Regular tickets: 150 euro. Discounted early bird rate of 125 euro available until 30 July 2023. A discounted participation fee is available for those who come for an area stuck by war or disaster. Also special fees apply for special situations. For more info please send an email to info@schoolforthecity.nl
REBUILDING DESTROYED CITIES
Rebuilding a destroyed city is not just replacing or rebuilding its infrastructure and architecture. It is about making the choice which and whose city should be rebuilt. It is a choice as much about the Idea of the city as about its form. A reconstructed city is not just a brick and mortar replacement of everything that was damaged, but also a story of the history and the future of the city. A heavily idealized and edited story, that tells of power structures and ideology. In the reconstruction of cities ruined by war or disaster, questions of identity, ethnicity, history and culture are paramount. From the reconstructed heart of the city of Rotterdam, this seminar will look at a variety of destroyed cities and how they have reinvented themselves or are in the process of doing so.
From Rotterdam and Dresden, to Mariupol and Gaziantep, we will look at the historical form of these cities, and at the ideological questions their repair has posed or will pose. We will also try and put ourselves in the place of the politicians, engineers, planners and architects and formulate our own visions and maybe even tentative plans. Through lectures, excursions, workshops and conversations the seminar will cover a lot of ground in a short time and provoke an exchange of ideas across borders. Rotterdam will be the fitting background against which this seminar will play out.
PRELIMINARY PROGRAMME
Friday 13 October 2023
13:00 – 13:30 Welcome and introduction
13:30 – 14:30 Presentation by Wouter Vanstiphout / Michelle Provoost
14:30 – 15:00 Conversation
15:00 – 17:00 Guided excursion in the city center of Rotterdam
17.00 Drinks and conclusion
Friday 20 October 2023
13:00 – 14:00 Bengin Dawod, Aleppo, Syrie (to be confirmed)
14.00-14.30 Conversation
14:30 – 15.30 Slava Balbek, Ukraine (online, to be confirmed)
15:30 – 16.00 Conversation
16.00- 17.00 Assignment
Thursday 02 November 2023
13.00 – 15:00 Presentation assignment
15.00 – 16.00 Jan-Willem Petersen, Afghanistan (to be confirmed)
16:00 – 17:00 Conversation
Thursday 09 November 2023
13:00 – 13.30 Olexandra Tkachenko (to be confirmed)
13.30 – 17.00 Workshop on reconstruction with Olexandra Tkachenko
SEMINAR DETAILS
For whom is this Seminar?
Any professional background: Sociologists, historians, writers, and other urban thinkers. Planners and architects and other designers. Artists, activists, grassroots organisations and other urban do-ers
What does the seminar offer?
Lectures by experts and tutors. Guided group excursions. Conversations with likeminded professionals from a wide array of disciplines. Being part of a learning community.
What will you learn?
Different approaches to reconstruction of cities after destruction. The decisions and ideology behind the reconstruction of Rotterdam after WWII. A historical view of urban destruction and reconstruction. Seeing architecture and urban planning in terms of ideas and memory. A way to look at current events in terms of long term developments.