School's Out! #19 with Adriaan Geuze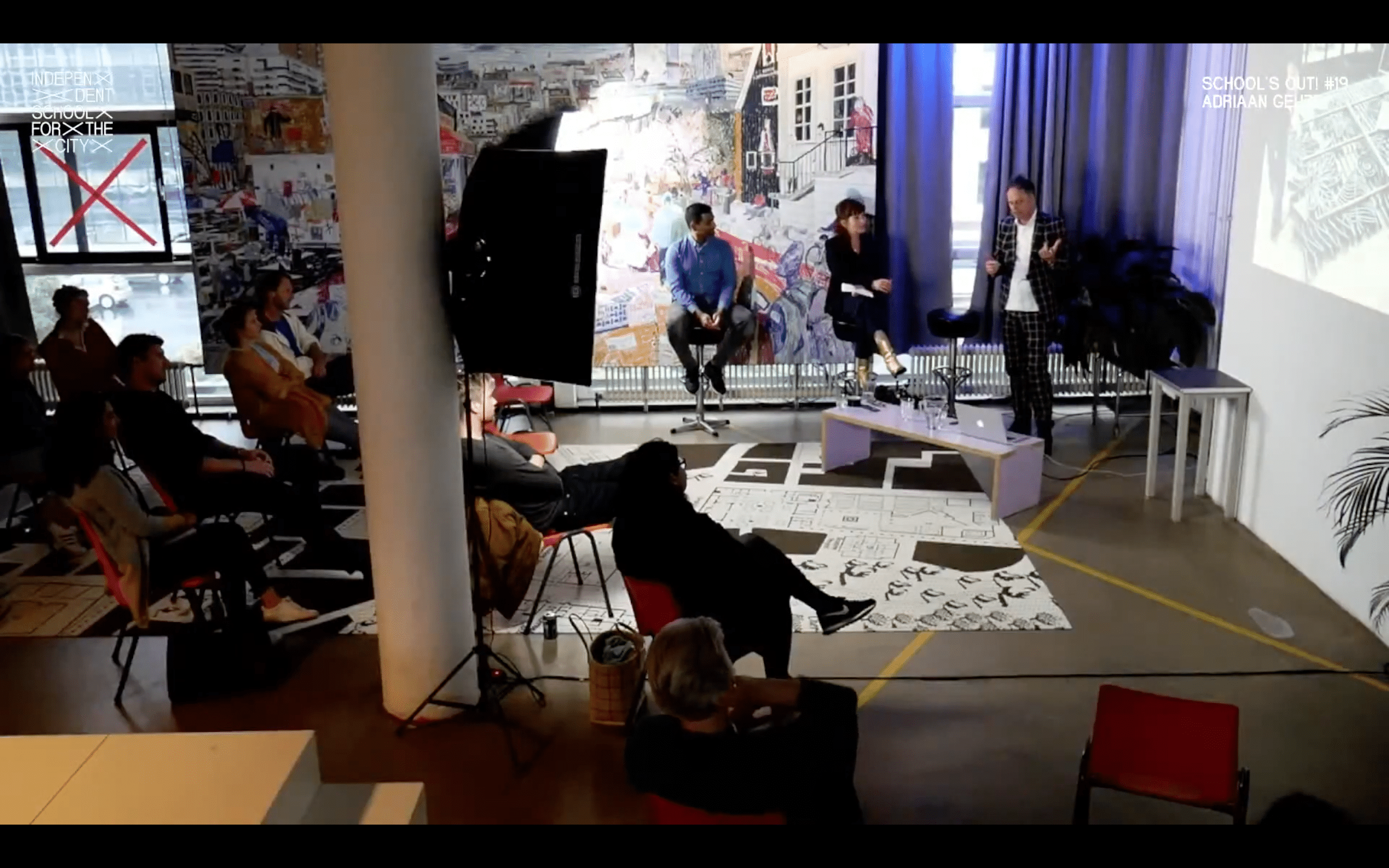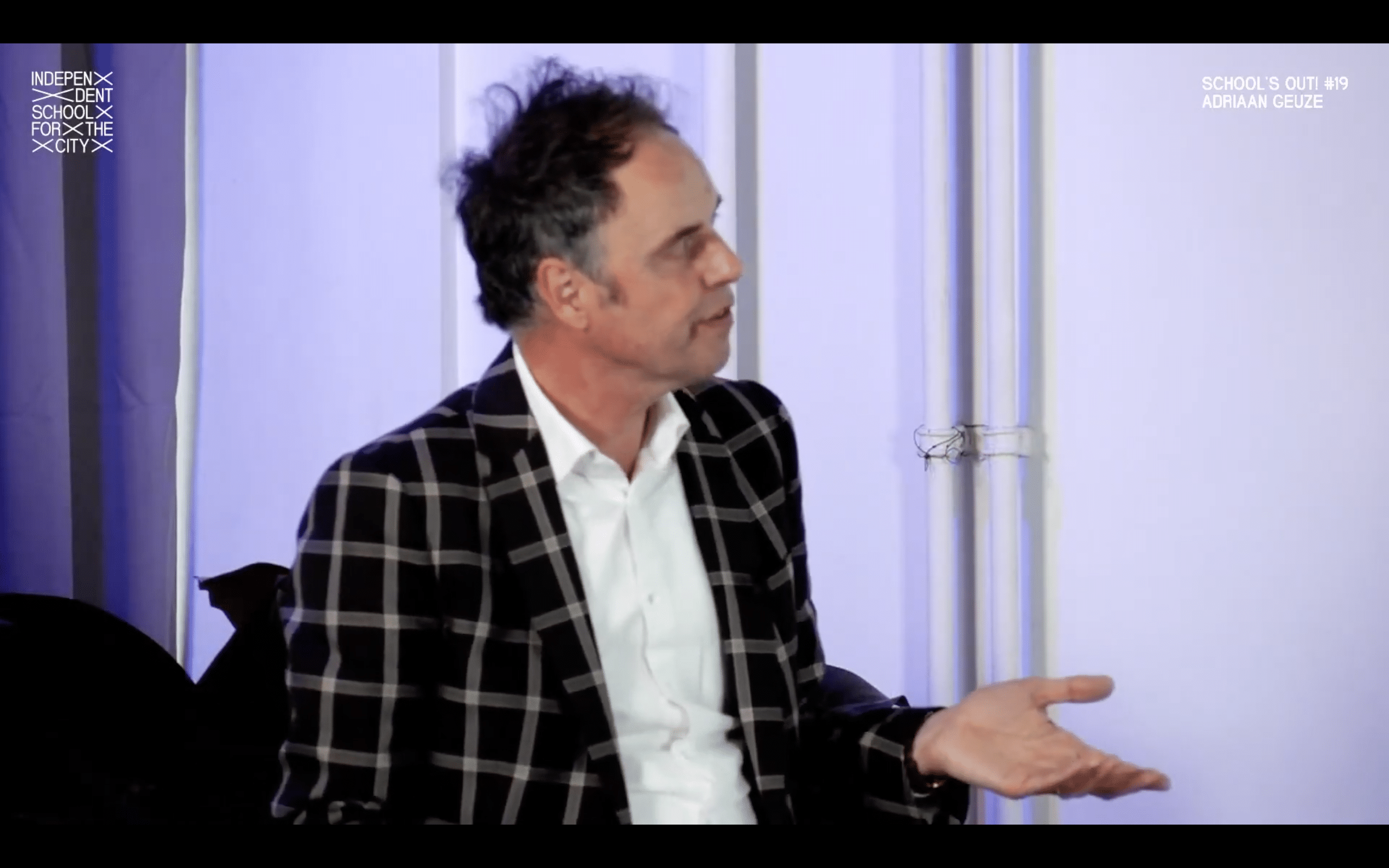 For the 19th edition of School's Out! we invited one of the most influential and famous landscape architects of the Netherlands: Adriaan Geuze. Adriaan talked about one of his lasted projects: the Houston Botanic Garden (Texas, USA) – a former golf course that was turned into a 132 acres park of ecosystems, horticultural displays and walking trails. In his presentation Adriaan did not just take us along the design process – that went from masterplanning the site, to designing the vegetation, the fences, furniture, fountains, and even the ceramic tiles on one of the walls – but he also talked about the process of winning the design competition, his visions for the place, his contact with the client – that consisted of a small constituency of local Houstonians, fundraising dinners and how he operates in a multidisciplinary team of planting and soil experts, structural Engineers, and architects.
The result is an oasis of learning, discovery and horticultural beauty. Outdoor gallery spaces display a collection of tropical, sub-tropical, and arid plants from around the world to showcase the biodiversity that thrives along the Texas Gulf Coast. The intention of the site design is to seek balance in all aspects, from planting and soils, through topography and materials—the careful juxtaposition of order and chaos that is at the heart of enduring gardens. The now completed 1st phase of the project includes the completion of the Playground Lagoon, Global Garden, Alcoves, Welcome pavilion boulevard and the Edible Garden.
About Adriaan Geuze
Adriaan Geuze studied landscape architecture at the University of Wageningen, after which he founded WEST8 an office for urban design and landscape architecture in 1987. In 1990 Geuze won the Prix de Rome award and established an enormous reputation with his office on an international level with his unique approach to planning and design of the public environment. He states that 'the real future in today's debate about sustainability lies not in a political or philosophical dialogue about what we are protecting or how we are going to 'sustain' it, but rather how to actively create new ecologies. 'Creating land and then painting it: in many ways, this is the soul of Dutch culture'.
Amongst the numerous awards that WEST8 has won, are the Dutch Maaskant Award in 1995, the Rosa Barba First European Landscape prize in 2002 and the Veronica Rudge Green Prize for Urban Design from the Harvard Design School in 2002. Internationally respected as a professor in Architecture and Urban Design, Geuze frequently lectures and teaches at universities worldwide. In 2005 Geuze was given the prestigious position of curator for the 2nd International Architecture Biennale in Rotterdam and was presented with the Lifetime Achievement Award by the Mondrian Fonds in 2011. With WEST8, Adriaan Geuze has won various international design competitions such as Governors Island in New York, Playa de Palma in Mallorca, Toronto's New Central Waterfront design in Canada, and Yongsan Park in Seoul, Korea.