This is Tomorrow
A unique 12-week education programme on contemporary urbanism, dealing with Climate Change, Migration and Spatial Inequality in relation to our urban surroundings, taking place from 01 April till 28 June 2024. Registration deadline: 11 February 2024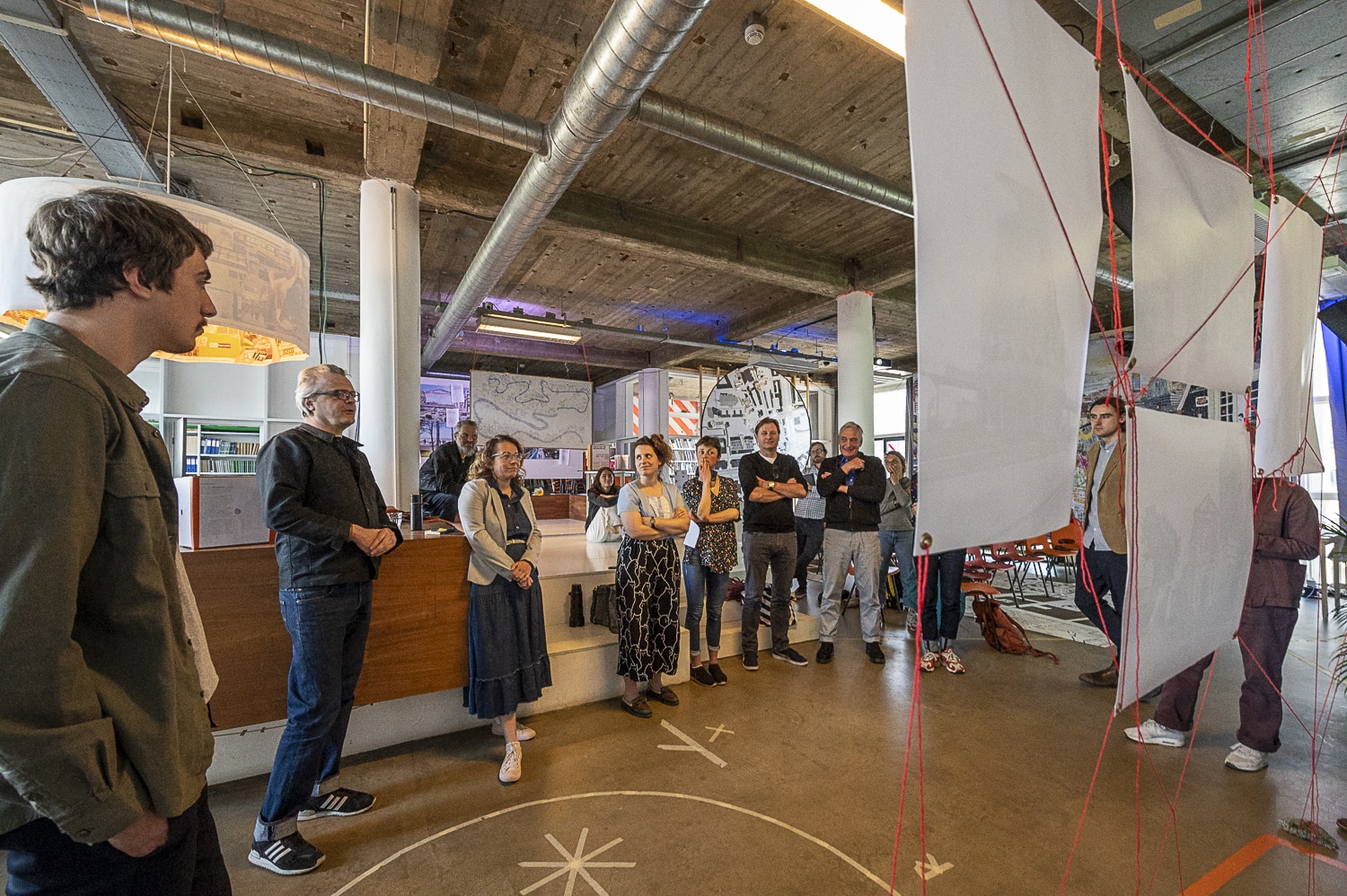 This is Tomorrow is the centrepiece of our yearly education program. In a three-month course Rotterdam will be used as laboratory for research into issues that are relevant to cities all over the world. By alternately looking closely at urban phenomena, and them zooming out to global tendencies we will see how the future is already here, at our feet and in front of our eyes.
Street culture and global warming; food production and cultural superdiversity, financialization of housing and alternative energy sources, are all combined in our study of Rotterdam.
The first two weeks will be dedicated to an introduction of Rotterdam itself, its lively urban culture, its morphological urban structure, its economy and its place in the global economy. The next weeks we will work together with the research and activist collective Loom. With Loom we will do investigative research into the structures that maintain the hegemony of finance, gentrification and fossil economy in the city. We will explore strategies for people to reclaim their right to the city, and how professionals can contribute to creating the condition for this.
Afterwards we will delve into the effects and new realities of the Anthropocene in which we all live. With Landscape architect Dirk Sijmons and exhibition designer Herman Kossmann we will explore ion many different ways the effects on daily life when the global temperature has risen by 2,5 degrees. The focus of this studio is not just research but also very much visualization. The results will also be shown at the International Architecture Biennale of Rotterdam in 2024.
The fourth section will take the public spaces of Rotterdam as its focus, the streets, squares and much more. With specialist in the sociology of public space Linda Zuijderwijk, we will learn and develop ways of questioning people, notating places, interpreting what we see and retelling it in pictures, maps and stories. The central question is how the ongoing diversification of Rotterdam's population has affected the way we use and see our spaces. Should we also design and maintain them differently? How can we make the city fit its people, and not just the other way round. This section will result in a report and a manifesto.
At the end of the programme, we will take a week to individually wrap up and synthesise our production, in a personal column, a graphic novel or another type of visualisation.
COURSE PROGRAMME
WK 1 & 2 / 01 April – 12 April 2024
INTRODUCTION
During the first weeks, participants will be introduced to the School and to the city of Rotterdam. Through expeditions and lectures, we will look at the city from various perspectives and become familiar with different disciplines and crafts. You will explore the physical but also the invisible realities of the urban landscape while meeting different professionals within the network of the School, whose diverse backgrounds, works, experience and opinions will sharpen your own thinking. In these first weeks you will be learning from Rotterdam while critically reflecting on the trends and developments that influence the city.
WK 3 – 5 / 15 April – 03 May 2024
THEMATIC BLOCK #1 – RIGHT TO THE CITY
Workshop about the Right to the City with research collective Loom. This block is also offered as a stand-alone course. More info will follow soon. 
WK 6 – 8 / 06 May – 24 May 2024
THEMATIC BLOCK #2 – ANTHROPOCENE
Workshop about the Anthropocene and the impact of 2,5 degree temperature rise on the city of Rotterdam, with landscape architect Dirk Sijmons and designer Herman Kossmann. This block is also offered as a stand-alone course. More info will follow soon. 
WK 9 – 11 / 27 May – 14 June 2024
THEMATIC BLOCK #3 – SUPERDIVERSITY
Workshop about Superdiversity. This block is also offered as a stand-alone course. More info will follow soon.
WK 12/ 17 June – 21 June 2024
REFLECT AND PRESENT
Time to reflect on what you learned over the past weeks. Time to individually wrap up and synthesise your production and insights in a personal column, a graphic novel or another type of visualisation.
HOW TO APPLY
The densely packed 12-week programme fits within the 90 days period of a tourist visa to the Netherlands. It is based on a five-day work week filled with workshops, lectures and field trips. The regular participation fee for This is Tomorrow is 1500 Euro (no VAT payable). In addition, we offer a Droom & Daad Scholarship (for participation and part of the expenses) to two motivated applicants from and living in one of the low- and middle-income countries on the DAC list.
You can apply for this 3-month programme by sending a motivation (1 A4), your CV (max 2mb) and examples of previous work (max 8mb/5 pages) to info[@]schoolforthecity.nl before 11 February 2024. The programme needs a minimum amount of 8 participants and has a maximum of 20 participants. Applicants will be informed before 01 March 2024 whether they have been accepted, after which a down-payment should be made of 150 Euro. For question please contact info[@]schoolforthecity.nl
You can also apply for each of the thematic workshops that are part of This is Tomorrow as stand-alone courses. 
METHODOLOGY
The course will use the Independent School for the City's methodological triad of Research, Stories, Strategies Action!
#RESEARCH
Through lectures by the best experts, precisely planned excursions through Rotterdam and mapping exercises, we will uncover the invisible layers of the city, look at sites through various lenses and collect the data needed to take a position vis-à-vis the city's challenges. We will look at the city as a palimpsest of different systems, ideas, infrastructures, policies and ideologies. Each time, we 'll consider Rotterdam as a means to get a close-up view of global trends and networks.
#STORIES
To share our position on the city with others, in order to turn it into action, we need to construct a strong narrative. That is the subject of the second week dedicated to each theme. Lectures and workshops will be held on the different formats and techniques, the different languages and methods with which a story can be told. From the written manifesto to the exhibition, the political campaign to the utopian plan, the movie to the historical essay. We will discover how a narrative approach not only carries the message we want to share but will shape and influence it too. Through the stories we tell, we start to change the reality of our cities.
#STRATEGIES
The next step is to translate your insights and stories into an urban strategy. Working on the city is not value-free and can only be done together with others. We challenge participants to take a clear position and to actively relate to the city. In order to realize ambitions, partners and money are needed, politicians and local residents have to be included, or activism is necessary. Within a development strategy we describe the steps necessary to achieve our goals.
#ACTION
The last step is to design a concrete action. We have a broad view of what action is. It can be a drawing or a precisely written and timed manifesto. A poster campaign or government-funded master plan; the construction of a prototype or a tactical policy change. An active group of residents can sometimes have just as much impact on the shape of a street as an iconic piece of architecture. With an action we take the first step in the implementation of a strategy and we try to land our ideas in the 'real world'. The programme will conclude with an exhibition and a conversation with researchers, planners and politicians who have been entrusted with Rotterdam's future.
ABOUT ROTTERDAM
Once unknown and misunderstood, the city of Rotterdam is now more popular than ever. Iconic buildings, bars and restaurants pop up all around town, making it an attractive destination for tourists, students and other visitors from all around the world. The population is growing, house prices are on the rise and the development of new urban districts is in full swing. In less than two decades the city has changed from a harsh and grim, yet poetic, place to a smooth and attractive city that is loved and today is even called hospitable and pleasant.
But no matter how charming the city presents itself, no matter how modern or popular it is, it owes – contrarily enough – a large part of its appeal to its sharp edges; its attraction lies not exactly in being able to offer what you are looking for, but in what it confronts you with unexpectedly: the surprises, the jagged fringes and the opportunities they bring. The city is a real city because it always offers more than what you asked for. It is the darker side that makes her more than a small town. The city is old, dirty and beautiful at the same time. That's why we love her, why we want to nurture her.
Yet, at the same time, there are still many serious issues in this city that are problematic. Just like other world cities, Rotterdam has to come to terms with social inequality and spatial segregation, with drug-related crime and human trafficking, with pollution and environmental degradation. The city has been part of a global network since her origins and shares these issues with cities worldwide such as Hong Kong or Baltimore, Athens or Accra. Her problems are not unique, but can we devise unique strategies to solve them?