Back to School with… Arna Mačkić – Architecture of Memory
A series of three evening lectures that explore the architecture of memory, taking place on Tuesday 31 October, 21 November and 12 December 2023. Tickets for the separate events are 17,50 euro and include a simple dinner. An entrance package for all three evenings is available for 45 euro. Get your tickets here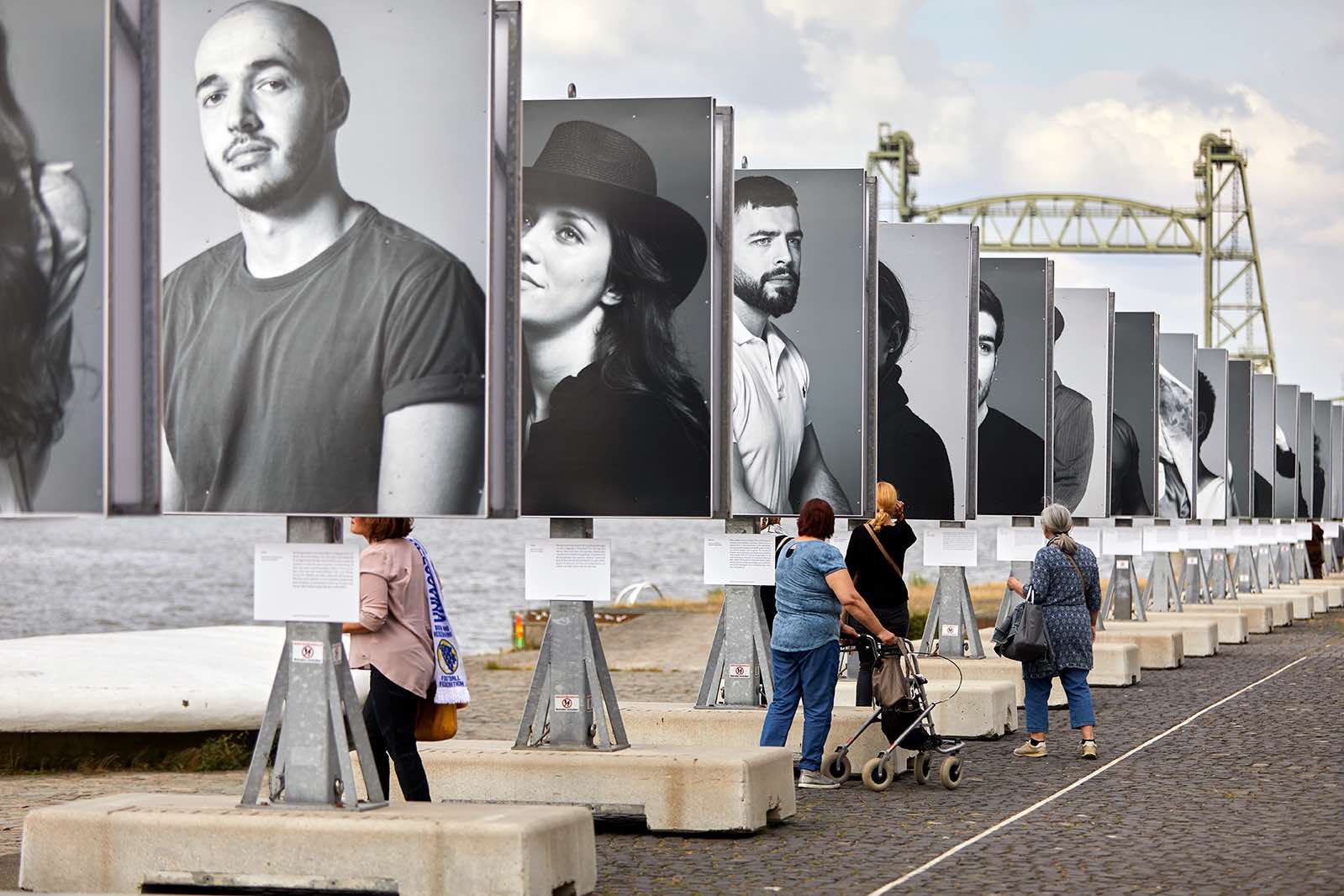 Tickets for the separate events are 17,50 euro and include a simple dinner. An entrance package for all three evenings is available for 45 euro.
The Architecture of Memory
This series is about the architecture of memory. Places of remembrance and monuments often represent a dominant historical narrative. Thereby they exclude those people who do not recognise themselves in the monuments and places of tribute in public space. More and more we are confronted with the need for forgotten of hidden stories, stories by people who have suffered under the dominant heroes.
How can places of memory and monuments be designed that do not offer a one dimensional perspective on history, but that underline a shared past and a collective future? Places of remembrance that urge people to reassess their perspective and play a part in the daily lives of the urban communities. During this series we will look at different approaches by architects, activists and researchers in thinking about and designing places of remembrance.
About Arna Mačkić
Arna Mačkić is an architect and co-founder of Studio LA and the former head of Architectural Design at the Gerrit Rietveld Academy. Mačkić's projects often relate to inclusion and exclusion mechanisms, refugees, collective identity and public domain. She aims to use architecture as a connecting voice, healing the wounds of the past without brushing away its scars which is the subject of her book, Mortal Cities & Forgotten Monument (Park Books, 2016). Mačkić is also part of Bosnian Girl, a collective which campaigns for an inclusive historiography and commemoration of the Srebrenica genocide in the Netherlands. Since 2019, she has been in the Editorial board member of Architectuur Jaarboek and Supervisory Board Member of Jan Van Eyck Academie. She was one of the candidates of Prix de Rome 2022 Architecture.
About Aida Sehovic
Aida Šehović was born in Banja Luka, Bosnia and Herzegovina in 1977. She is the founder and caretaker of ŠTO TE NEMA—a participatory public monument to the Srebrenica Genocide. Šehović is the recipient of Socrates Sculpture Park Fellowship and Culture Push Fellowship, and was an artist in residence at the Lower Manhattan Cultural Council, Grand Central Art Center, Santa Fe Art Institute, and Vermont Studio Center. Recent exhibitions include Ars Aevi Nucleus Kyiv, Canadian Museum of Human Rights, Kunsthaus Dresden, Historical Museum of Bosnia and Herzegovina, KRAK Center for Contemporary Culture, Laumeier Sculpture Park, and ARTIVISM: Atrocity Prevention Pavilionduring the 58th Venice Biennale. Her work has received support from the Foundation for Contemporary Arts, New York State Council for the Arts, Open Society Fund and the Rockefeller Brothers Fund. Šehović received her BA from the University of Vermont and her MFA from City University of New York Hunter College. She lives and works between New York and Sarajevo. Where Have You Been, a feature length documentary by Mirko Pincelli about her work, will be released in 2023.
About Uri Gilad & Inez Tan of Office Winhov
Office Winhov was founded by Uri Gilad and Jan Peter Wingender. The office focuses on the renovation and extension of buildings of special historical significance, sustainable housing, and multifunctional projects at the intersection between hospitality, culture, and commerce. Developed with a careful understanding of context and an interest in material presence, their work incorporates the environmental, social, and cultural dimensions related to architecture and city planning.
Programme
#1 TEMPORARY & PARTICIPATORY MONUMENTS – 31 OCTOBER, 19:00 – 21:00, DOORS OPEN AT 18:00. WITH ARNA MACKIC AND AIDA SEHOVIC
How can we design monuments that disrupt the status quo and challenge the dominant historical narratives? Is it possible for communities to imagine and offer new forms of public memory and build monuments that are inclusive, evolving and relevant for the future? While a dominant or central culture has the means to memorialize its own version of the past, this lecture by Aida Šehović and Arna Mačkić will explore the ways in which those on the margins can inscribe their own histories. While the center has stone and bronze, the periphery has performance, stories and rituals. These are the processes and strategies that we will discuss.

18:00 – 19:00 Doors open and dinner served
19:00 – 19:10 Welcome
19:10 – 19:40 Introduction 'The Architecture of Memory' by Arna Mačkić
19:40 – 20:25 Lecture by Aida Sehovic
20:25 – 21:00 Conversation + Q&A
#2 PERMANENT MONUMENTS AND FORMAL REPRESENTATION – 21 NOVEMBER, 19:00 – 21:00. DOORS OPEN AT 18:00. WITH ARNA MACKIC, URI GILAD & INEZ TAN (OFFICE WINHOV)
How could architecture not get in the way of what happened on a certain place? But can it provide space for the personal stories for the visitors – to give a sense of place? In this session Uri Gilad & Inez Tan of office winhov will talk about their design for the National Holocaust Museum in Amsterdam. The design challenge by the architects Inez Tan and Uri Gilad, was to create a place that respectfully exposes the history and allows familiarity – without forcing an experience, or unnecessary historizing. Tan and Gilad strongly believe that architecture should not get in the way of people's own imagination as they are confronted with history.

18:00 – 19:00 Doors open and dinner served
19:00 – 19:10 Welcome by Independent School
19:10 – 19:30 Recap introduction and previous lecture by Arna Mačkić
19:30 – 20:15 Lecture by Uri Gilad & Inez Tan (Office Winhov)
20:15 – 20:45 Conversation + Q&A
#3 THE POLITICS OF CARE – 12 DECEMBER, 19:00 – 21:00. DOORS OPEN AT 18:00.

18:00 – 19:00 Doors open and dinner served
19:00 – 19:10 Welcome by Independent School
19:10 – 19:40 Introduction by Arna Mačkić
19:40 – 20:15 Lecture [to be confirmed]
20:15 – 20:45 Conversation + Q&A